LAURA NADILE, TEXTILE GRAPHIC DESIGNER
"The whole collection takes from similar sorts of elements, but the idea behind this specific print came through the folklore of Chinese astrology.
Because we didn't have an inspiration trip this time around, we had to delve deep into the archives and treasure room for ideas.
We took elements from a vintage Chinese jacket to inspire line work through the boarder, and took inspiration from ancient Chinese ceramics, which we helped inform the gold detailing throughout."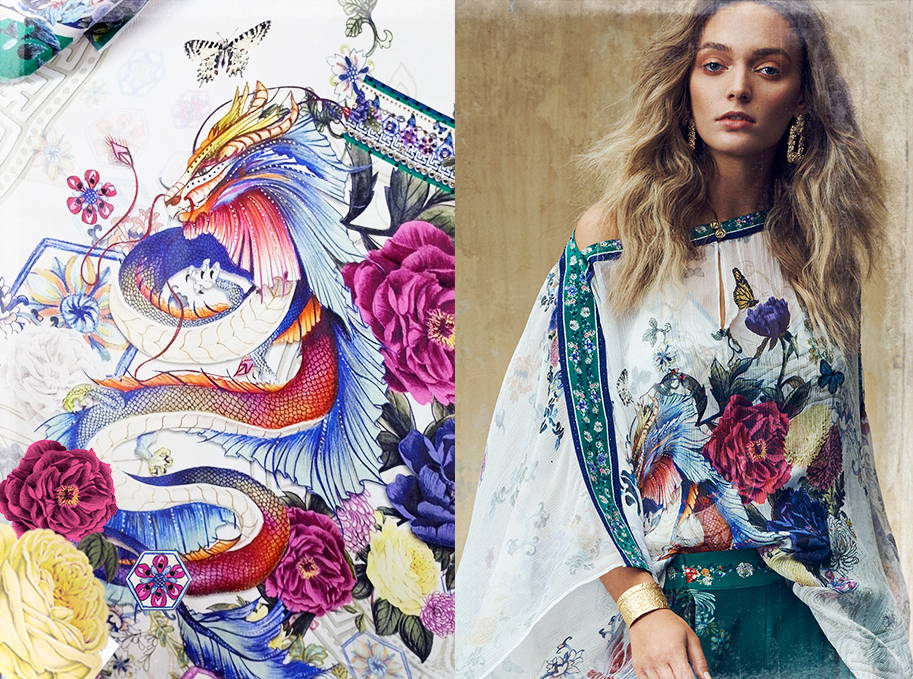 "I found a photo of these beautiful temple doors from one of Camilla's old inspiration trips. This inspired the hexagon symbols you can find in the print, to which I painted full of bright colourful to give them little life. The dragon represents dominance, ambition, authority and dignity, which I think is somewhat symbolic of the strength and confidence of the Camilla woman. The abstraction of flowers throughout add a sense of femininity to the design. It's quite magical watching your designs come to life. Once you see it moving with the body, with all the fluid drapes and falls, it takes a complete different form, which is really incredible."